MUNDANE SHIT
OK, 'Anon.' You've been warned. Don't read this post.

I mentioned on the previous post about Gazoo telling me to read the Sky Mall catalogue. I was bored, and so I did. And I just started writing in my notepad...
Thursday, 3/16 In-flight.
Sky Mall catalogue. Does anyone ever buy anything out of here? I think the catalog should be entitled, "Lifestyles of the Rich and Frivolous." Don'tcha have to be just a little 'friv' to buy this stuff? Let's take a look, shall we?

Inside cover – Ultra Projector. "All you need for your presentations." I sure hope so for the $3,299 they're charging.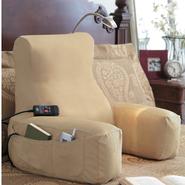 Page 9 – Ultimate Bed Lounger. "Our bed lounger combines a low level, adjustable reading lamp, heat and a dual-speed massaging element with ergonomic, cushioned memory foam to soothe tired muscles." Seriously, how can anyone pass that up for only $149?

Page 13 – Stylish Pet Gate. "Wood frame with sturdy steel grates." $89. It's not the product that caught my eye; it was the little mini-daschound going through the gate. Awwww.

Page 15 – Paper Towel Holder. "Convenient stainless steel Paper Towel Holder helps out in the kitchen." OK. Fairly obviously stated but for $59???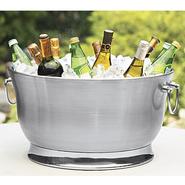 Page 17 – Beverage Tub. "Beautifully crafted of easy-to-clean, brushed-and-polished 18/10 stainless steel, with double-wall insulation that prevents any furniture-marring condensation." I call it an ice bucket, and for $149???

Page 20 – Copper Fire Pit. "Now you can enjoy a blazing backyard or beachfront fire." For $345? I'll pass.

Page 22 – Wastebasket. "Our Wastebaskets are works of art." Looks like a garbage can to me, and for $99 you can keep it.

Oooh, Sharper Image section. Here's a bunch of shit no one needs…
Page 26 – Turbo Clipper. "Easily removes fingernails and toenails. Ergonomic grip and motorized rotary file." Only $49.95? It's a steal, huh?

Page 28. How about a matching nose hair trimmer to "to comfortably trim away unsightly nose hair." Turbo-Groomer 5.0. $59.95

Page 28 – Human Touch ™ Recliner Massager. "Features back massage with full-body stretching for the ultimate at-home spa experience." $1999.95 plus $135 for shipping.
*But,* "It is recognized by the American College of Chiropractic Orthopedists." Whoever they are.

Oooh, Hammacher Schlemmer section. See Sharper Image comment.
Page 32 – Incomparable Comfort Slippers. They forgot 'ugly' in the title. $64.95

Page 33 – Inflatable Whirlpool Spa. It looks like a big kiddie pool. Why only one lonely lady in the picture? I think it would sell better if you had the sexy model guy in there with her. Where's the romance, people??? $899.95


3:47 p.m. Time out. I'm in luck. Pretzels. Damn, I was hoping for the little butter nuggets. Plain Jane pretzels here. By the way, that Seattle Best Iced Coffee I bitched about? Pretty damn good! Time in.

Page 35 - Men's Striped Turkish Cotton Pajamas. "Made from the finest cotton in the world." Maybe, but the last time I wore actual PJs, I was 12. $64.95

Page 37 – Magnifier Floor Lamp. For $279.95, you can decorate your room to look like a dentist's office. You know, when the dentist reaches way up and pulls that big magnifier lamp down to your eyeballs? I know I've always wanted one of these for my living room.

Page 39 – The Mosquito Mega-Catch. "Easily the best non-propane unit in the market." Once again, I hope so for $299.95.


Page 41 – Exclusive. The Wristwatch TV. Hey Joe, ya got the time? No, but I can tell you who got voted off Survivor Island. $199.95.
Page 43 - Exclusive. Chrome Vanadium Tool Set. I'm 43, and this is the first time I've ever seen the word, "Vanadium" since high school Chemistry class. $199.95

Page 44. Finally! Something I really like. Arcade Legends Game System. "Asteroids®, Centipede®, Missile Command®, Tempest®. More than 30 classic games return to life in this full size upright console." Too bad it as a 'classic' price of only $3695.95 plus $150 shipping.

Moving on to other vendors now.
Page 45 - Pop-Up Hot Dog Cooker. Does anyone *really* need assistance cooking hot dogs? Ahem. Boil water, cook for 10 minutes. If you can't handle that, I guess there might be a need for this contraption. $49.95

Page 55. OMG. "Aerating your lawn is as easy as taking a walk." You guessed it. Lawn Aerator Sandals. Complete with 1 ½ inch spikes. A 'steel' at $12.99

Page 63 – La Fuma - The Original "Zero-Gravity" Chair. They swear the concept of this lounge chair, "is based upon NASA's zero-gravity reclining position." It sells for $209.95 for the extra-large padded version *but* "it folds for easy storage and portability." Well, in that case, what are we waiting for?

Page 67. Shaking my head here. "Boil water in just 90 seconds!" Yeah, forget about your microwave folks. Now we have the T-Fal Vitesse. Vitesse? Valadium? Where do they come up with this stuff? $59.95

Page 69. Shaking my head again. Traction Bench. "Stretch away back pain." It looks like a medieval form of cruel punishment. Don't they mean Torture Bench? $349.95

Page 71 – Dozen of Real Dipped Roses. "Real roses dipped in 24K gold bring a lifetime of enchantment!" C'mon all you men out there. Treat your ladies right. After all, it's "a lifetime of enchantment" for her. And your wallet, too I might add. $598.95. Sorry, but the Bohemian crystal vase is extra. $69.95

Page 73. Honest to goodness, I want one of these. John Lennon Gold Record. A framed authentic gold record featuring the "Imagine" lyrics. Really, I want one. $199.95

Page 80 – College Slippers. "Surprise the alum with slipper clogs with their college's logo. 48 colleges to choose from." $45. Not bad.


Page 81. "Train pets to stay off furniture and counters." Or more bluntly stated, give your pet a heart attack. $29.50 for the Pet Trainer Alarm.

Skipping the boring computer section.
Page 105. "So rare that only a handful were made in 1923. Rarest of rare. Only a handful of these distinctive handmade timepieces in circulation." Ever wonder that if this was truly the case, why do we see these Steinhausen Watches popping up seemingly in every magazine/newspaper in the country? Yeah well, read the fine print. "Now recreated." $249 for this copycat version of the "$300,000 original."

Page 110 - BBQ Branding Iron. "Personalized Branding Iron for your BBQ." I know all my guests would be thrilled seeing a "TAM" branded on their filet mignons. $89.95

Page 113. Assorted medical aids, but I just don't get it. For example, Deluxe Digital Massage Boots. They look like something out of Apollo 13. $139.95.

Page 113. Headache Relief Massager. It looks like you've just had a lobotomy. $69.95.

Page 113. Hair Remover. Nuff said. $69.95

4:45 p.m. I need a nap. BRB. 4:50 p.m. Nap over. Window seat lady needs to use the 'lavatory.'
Page 117 – Digital Spy Camera Pen. "Work your secret spy mojo with the incredibly innocent-looking DSPC." Did they just say, "spy mojo?" $59.95


Page 117. Rietti Civil Mover Electric Scooter. "Your electric chariot awaits you. Save thousands over similar models." Would seem like 'a bargain' at $699.95 plus $99.95 shipping.

Page 119. If the DSPC doesn't strike your fancy, try the Orbitor Electronic Listening Device for $69.95. "Lets you hear and see a conversation from 100 yards away." It looks like one of those nerdy gadgets found inside one of those movie spy vans with all the detective electronic shit inside. AA batteries not included, of course.

Page 120. Well, well, well. What have we here? The rare Steinhausen 1923 Timepiece. "Be the first to wear this exclusive re-issue of a rare classic Steinhausen 1923 timepiece." I hate to say I told you so…$299.95


Page 124. If there ever was a pompous purchase, I present to you the H.S. Trask Hand-Sewn Driving Loafers. "And they're not just for driving." $170. I think I'll keep my Ecco's, thank you.

Page 127 - E5C Isolating Earphones. Wow! They look similar to my iPod earphones, but no no. "The E5C delivers the most sophisticated and intense listening experience possible." And for $499, I sure as hell hope so.

Page 131 – World's Coolest Running Shoe! Weird. It's actually a sandal. "Protects your feet and especially your toes by utilizing a toe guard and sculpted phylon midsole." Sculpted phylon? Add it to your new vocabulary list. $79.95

Page 135 – Inversion Stretch Station. Another upside down torture chamber. $249.95

Page 141 – Life-Size WWI Propeller. It is. It's huge. "Lean it in a corner, mount it above the mantle or behind your desk for a totally different kind of wall décor." I couldn't have said it better myself. $139.95


Page 144 – Hand Painted Russian Balalaika. I'm starting to feel dumb here. Another word I've never heard of. Do you play it or sweep with it? $229

Page 149. OK, here's something I actually *need*. Hairmax Laser Comb. "At last, you can have thicker, fuller, healthier looking hair! Just 10-15 minutes a day, 3 times a week is all it takes." I wish. Is it worth the $645 gamble?

Page 150 – Endless Pool. Hmm, looks authentic. The price is endless, too. $18,900.

Skipping clothes and luggage. Homestretch.
Page 168 – Sun System Facial Tanner. "Get a summer glow all year long." Huh. Facial tanner. I guess it doesn't work on any other part of the body. $139.95

Page 171 – Portable Massage Table. I'm sorry, Jerry Seinfeld. Masseuse not included. $199.95

And finally…
Page 176 – Mademoiselle Haute Couture Floor Lamp. Wonderfully described. "Ooo-la-la! She's ready to add high fashion to your decor! Our life-sized work of decorative art-glamorously 6-feet tall with her black fabric shade-has the chic knee-high boots, trendy cocktail dress, and accentuated curves that make her a timeless, always-in-style, fashion statement." Gee, when you describe it that way, she's seems worth the $395. Light bulb not included.


I also mentioned last post that I *did* agree, in part, with 'Anon's comment. He/she *is* right. Most of what I write is mundane shit. I guess that's my style and it certainly isn't for everyone. But when you really think about it, sans Tsunamis, Euthanasia, and certain political views, what *isn't* mundane? Well, I hope you've had your fill after viewing the slide show. I'm sneaking off to vacation. See ya in a week or so.